VIRTUAL MEMBERSHIP
"And I pray that you, being rooted and established in love, may have power - together with all the saints - to grasp how wide and long and high and deep is the love of Christ..." ~ Ephesians 3:18
No matter near or far, you are one click away from joining our HOB virtual community. If you are a new believer in Jesus Christ, our Savior and Lord, or a believer who is new to Bethlehem, we welcome you to the HOB Family. Our staff members are here to help you answer any questions concerning membership, ministry resources, classes, and youth outreach that are available to you.
HOB virtual members are a vital part of the Bethlehem family! You are Christ's followers and representatives all over the world. If you prefer you can join by sending us an email at info@bethlehemofbonham.net and we will have someone contact you.
Service Times:
Wednesday Mid-Week Bible Study: 6:45PM Prayer and 7:00PM Bible Study
Sunday School: 9:40AM       Sunday Morning Worship: 10:45AM
Live Streaming is available on the following platforms:
What's a virtual member? Some examples of reasons for Virtual Membership:
• You may have relocated and have not yet found a home church
• You may be a college student living on campus away from home
• You may have an occupation such as, a truck driver, a military person, and or a seaman
• You may have an occupation with none-traditional hours
• You may not be physically able to attend worship but you can be actively a apart of the HOB worship experience
• You may be in transition in your life at this time such as: nursing home, rehabilitation facility, incarcerated, and or unsheltered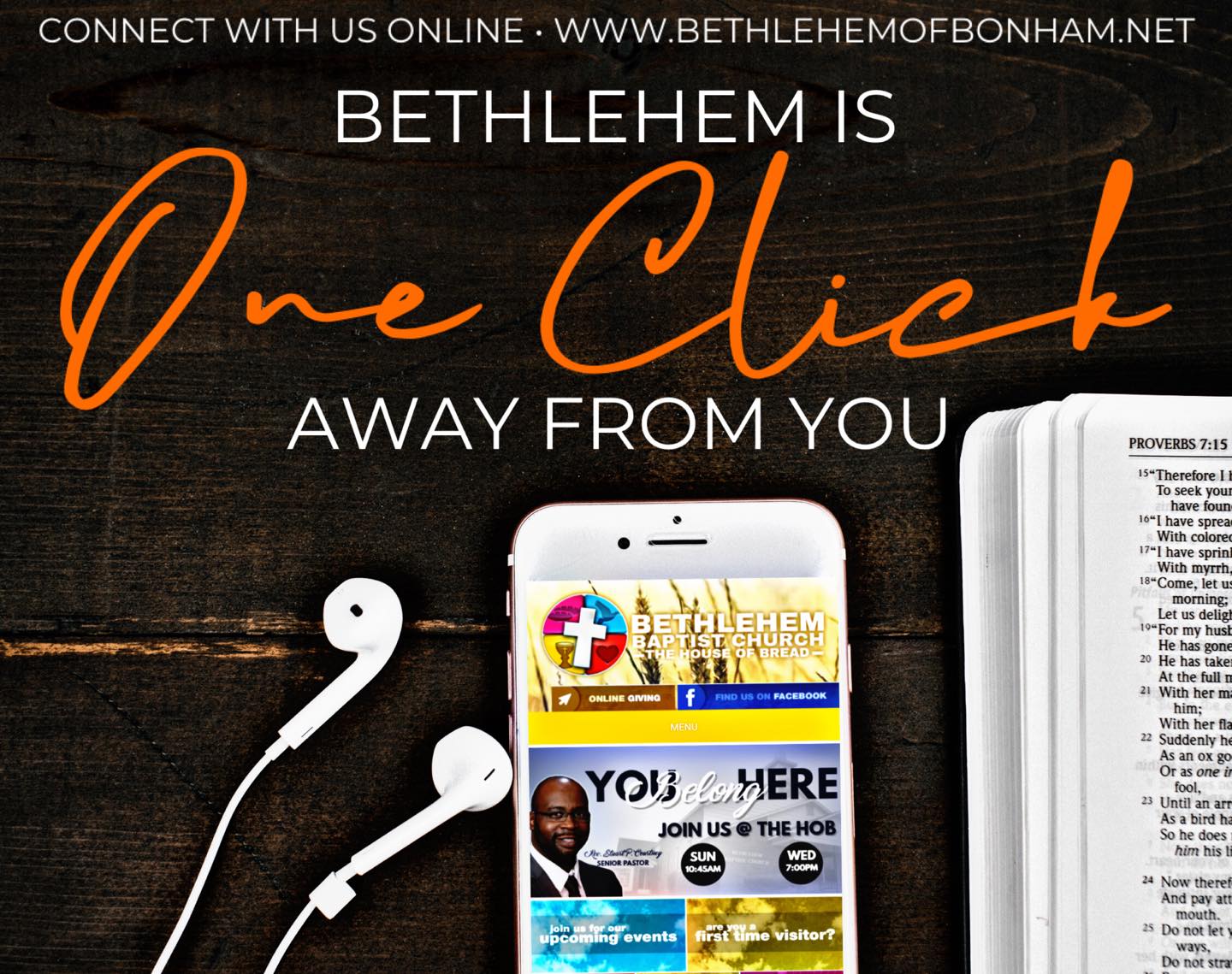 Become a Virtual Member Today!
Next Steps
Once registered, here are the next steps for our Virtual Members.
 

For Salvation:

 If this is your first time receiving a relationship with God by way of Jesus Christ, congratulations! Welcome to the Kingdom of God! 

Our Virtual Membership Team will contact you to confirm your information, give you a brief virtual orientation, and connect you with a Bethlehem Friend.  

 Please visit our list of 

Growth Groups

.

 

We offer several opportunities to develop an authentic relationship with Jesus Christ.  

For 

Wednesdays

,

our Bible Study group meets with prayer at 6:45PM and study at 7:00 PM. 

For children, please visit our

BYM

.

 Our Youth & Teen Ministry offers several opportunities for your children to develop an authentic relationship with Jesus Christ, fellowship, and have fun online. 

Keep praying, studying God's Word, living like Jesus, and staying connected with Shiloh! 
*This membership does not end when the pandemic ends. Once you connect with us you will be connected until you decided otherwise.
Again, welcome, and God bless!
I'm interested!! Register to Become a Virtual Member: