SLANT 45 Ministry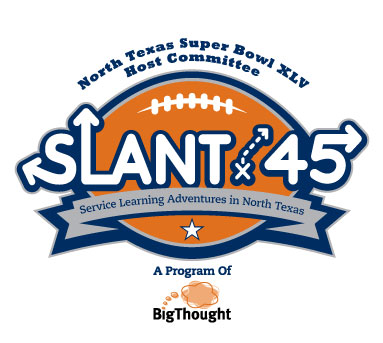 The Super Bowl is coming ... and there is a SUPER way for kids to get involved!? Join SLANT 45, and BETHLEHEM BAPTIST CHURCH OF BONHAM, TEXAS: team up with other kids to become a CHAMPION of community service!?
Help make your community a better place to live by signing up for SLANT 45 - short for Service Learning Adventures in North Texas. SLANT 45 is a FREE youth education program developed for elementary-age children. Designed and managed by creative-learning nonprofit Big Thought in partnership with the North Texas Super Bowl XLV Host Committee, SLANT 45 aims to become one of the biggest communitywide service-learning programs for children in America! The goal is to recruit 20,000 kids from more than 100 North Texas cities to generate 45,000 hours of community service.
Teams of kids will work with an adult coach to create a project that will benefit their community. Projects are limited only by a child's imagination - from blanket drives and community gardens, to murals painted over graffiti, to a neighborhood walking program.
SLANT 45's key components include a reflective collage, a special touring art exhibition, and a January 2011 celebration even at Cowboys Stadium in Arlington.
Here's how it works. Adult coaches, equipped with Playbooks packed with tips and ideas, will help form teams of two or more kids. The teams will identify and research issues in their local community from their own perspective, then develop a project, which can run over a weekend or span several months. Once a team is registered, local Junior League volunteers will assist the coaches and teams throughout the process.
If you have any questions, please contact our "SLANT 45" committee by email or 903-583-8061!
We raised enough money to help 3 different families within BBC, and 2 non-profit organizations: Helping Hands Ministry of New Home Baptist, and Fannin County Chrildren's Center
Project 2: Cleaning the Parks (Info Coming Soon)
Committee Coordinators:
Sis. Emma Williams, and Bro. Timothy La Vergne