BBC COVID-19 UPDATES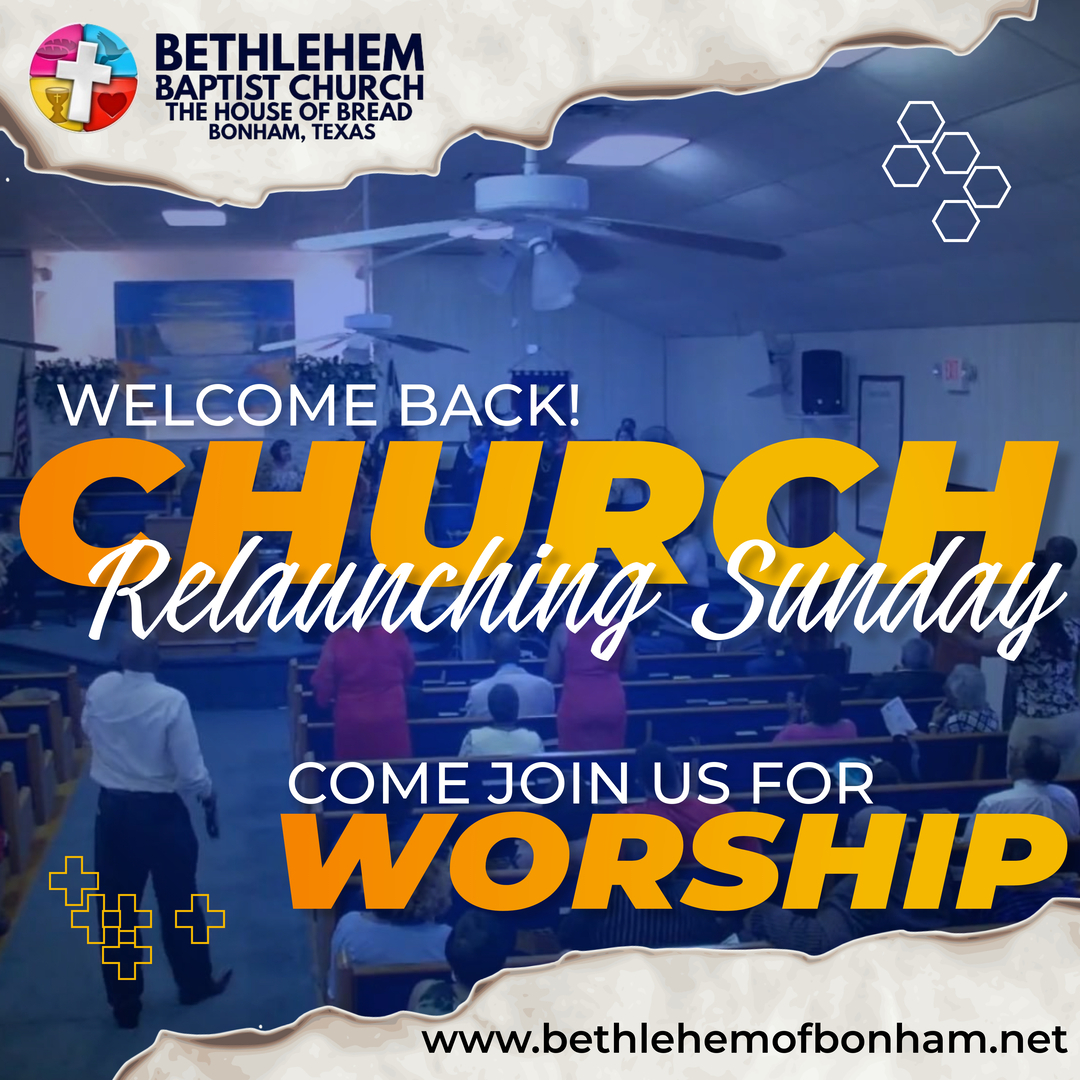 Posted: 07/04/2021:
Welcome Back!! The Doors are Open!
We're opening our campus and services will continue streaming online. We will be allowing 100% occupancy inside the sanctuary during services. We still ask you to continue to wear your mask inside the building at any event or service. 
---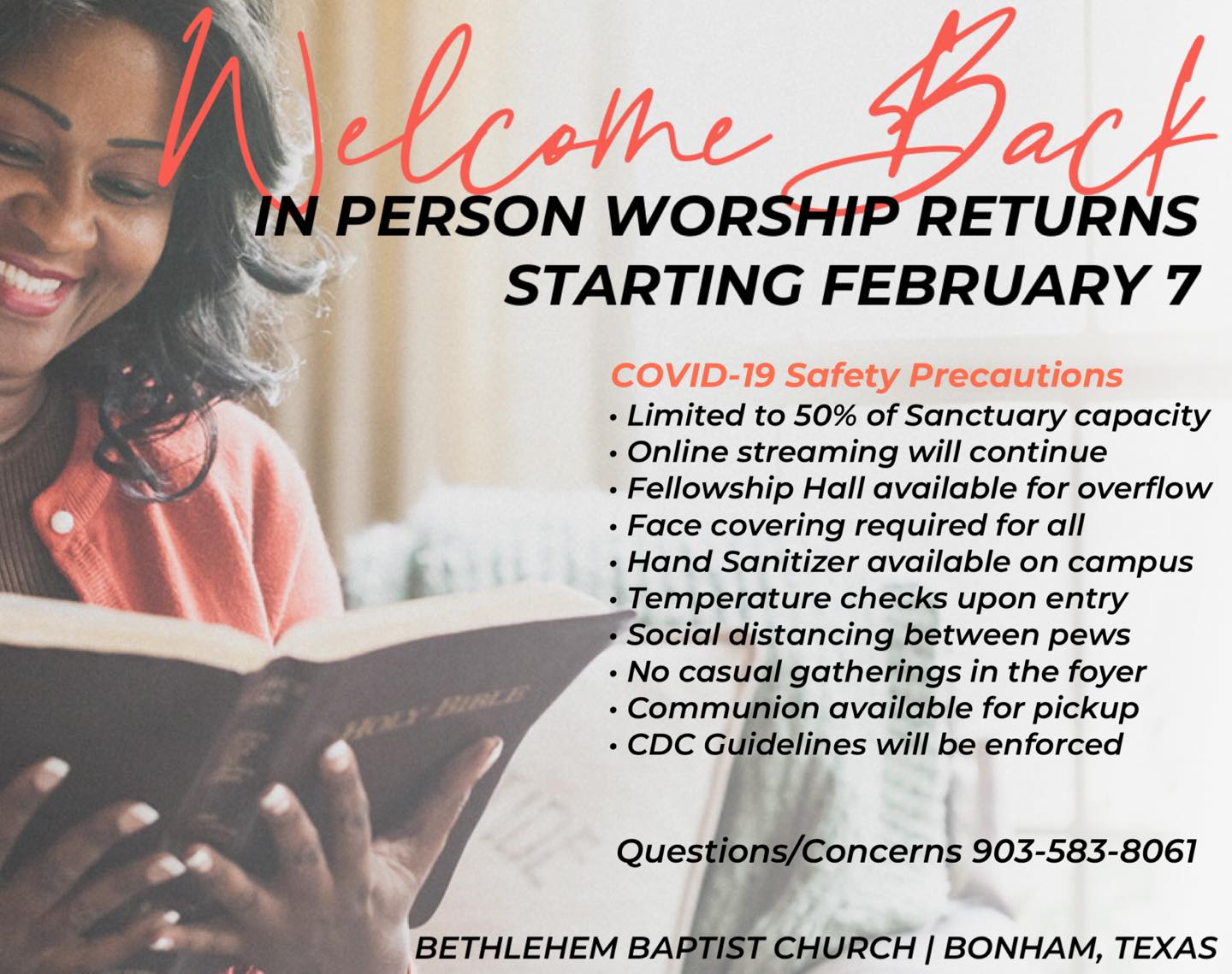 Posted: 01/27/2021:
Welcome Back!! In-person worship returns starting February 7
We're opening our campus in a limited capacity and services will continue streaming online. We will be allowing 50% occupancy inside the sanctuary during services. Overflow will be seated in the Fellowship Hall
---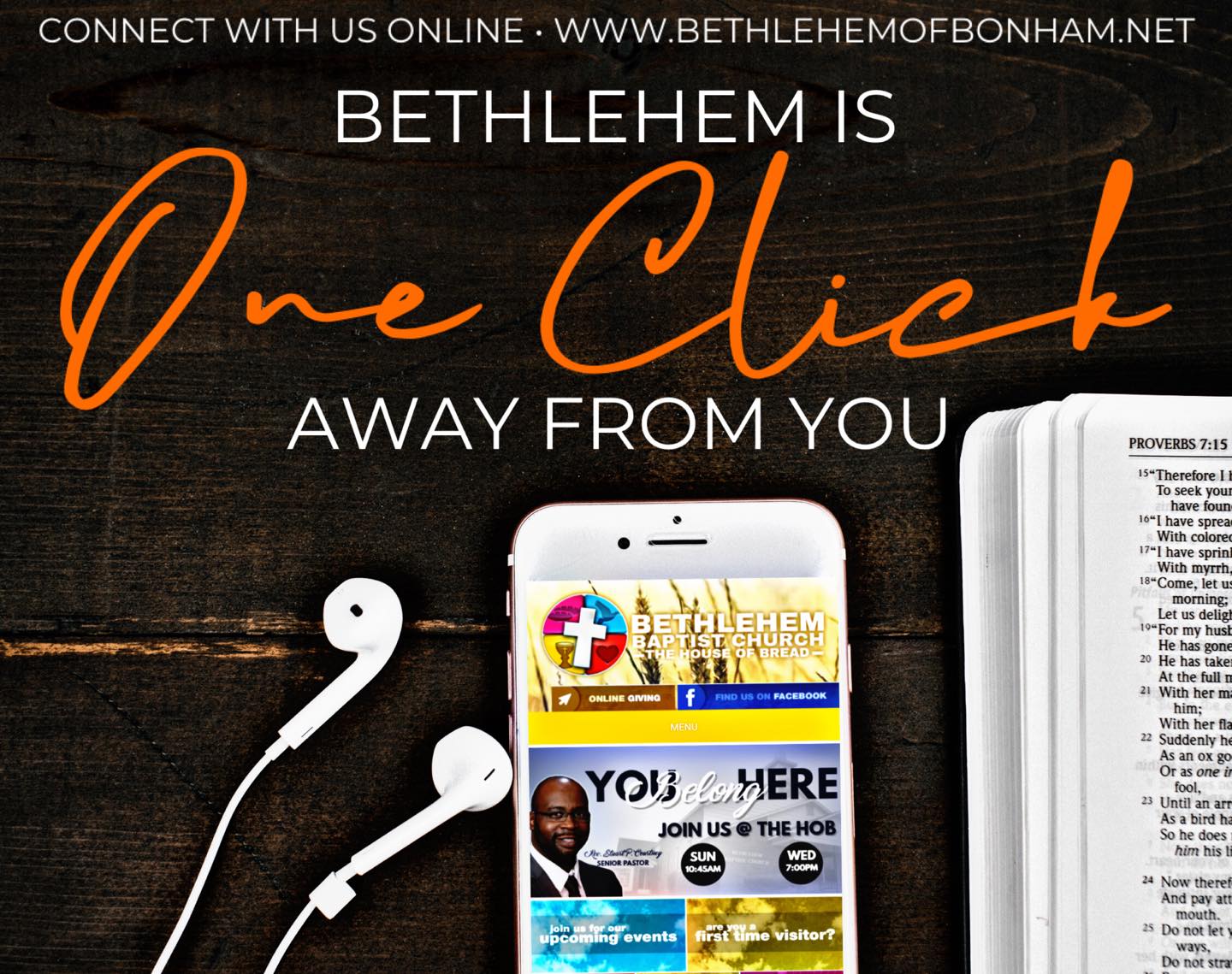 Posted: 01/27/2021:
New Feature to Website - Virtual Membership
No matter near or far, you are one click away from joining our HOB virtual community. HOB virtual members are a vital part of the Bethlehem family! You are Christ's followers and representatives all over the world. Be sure to visit our 'New Here' Section to find out more!
---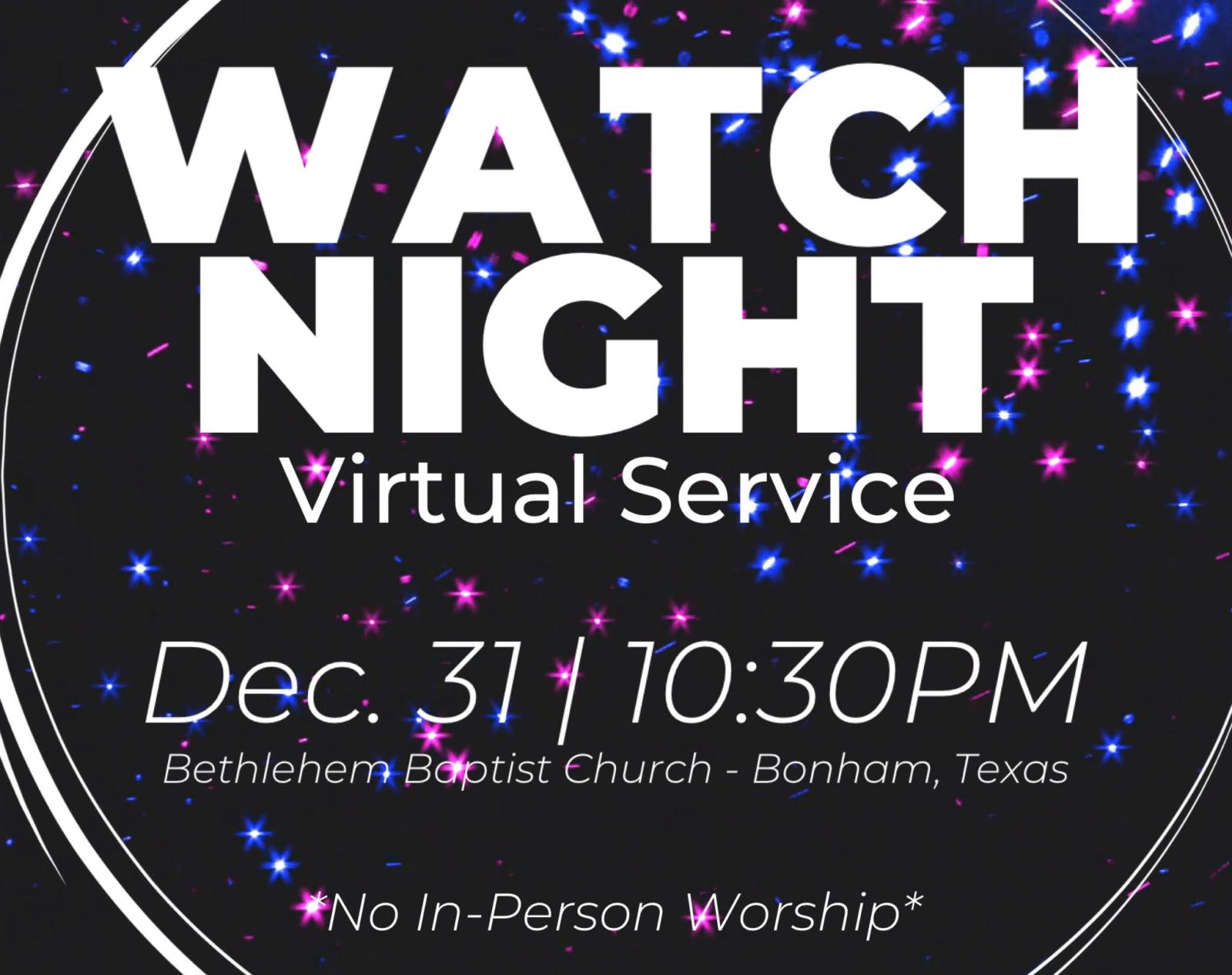 Posted: 12/23/2020:
Watch Night Service Online Only
Please join us for our Watch Night Virtual Service on Dec. 31st at 10:30pm! We will have preaching, singing, and testimonies given during the night as we go into the new year! We will not have in-person worship on this night - virtual service only that will be broadcast off our Website, Facebook and YouTube outlets.
---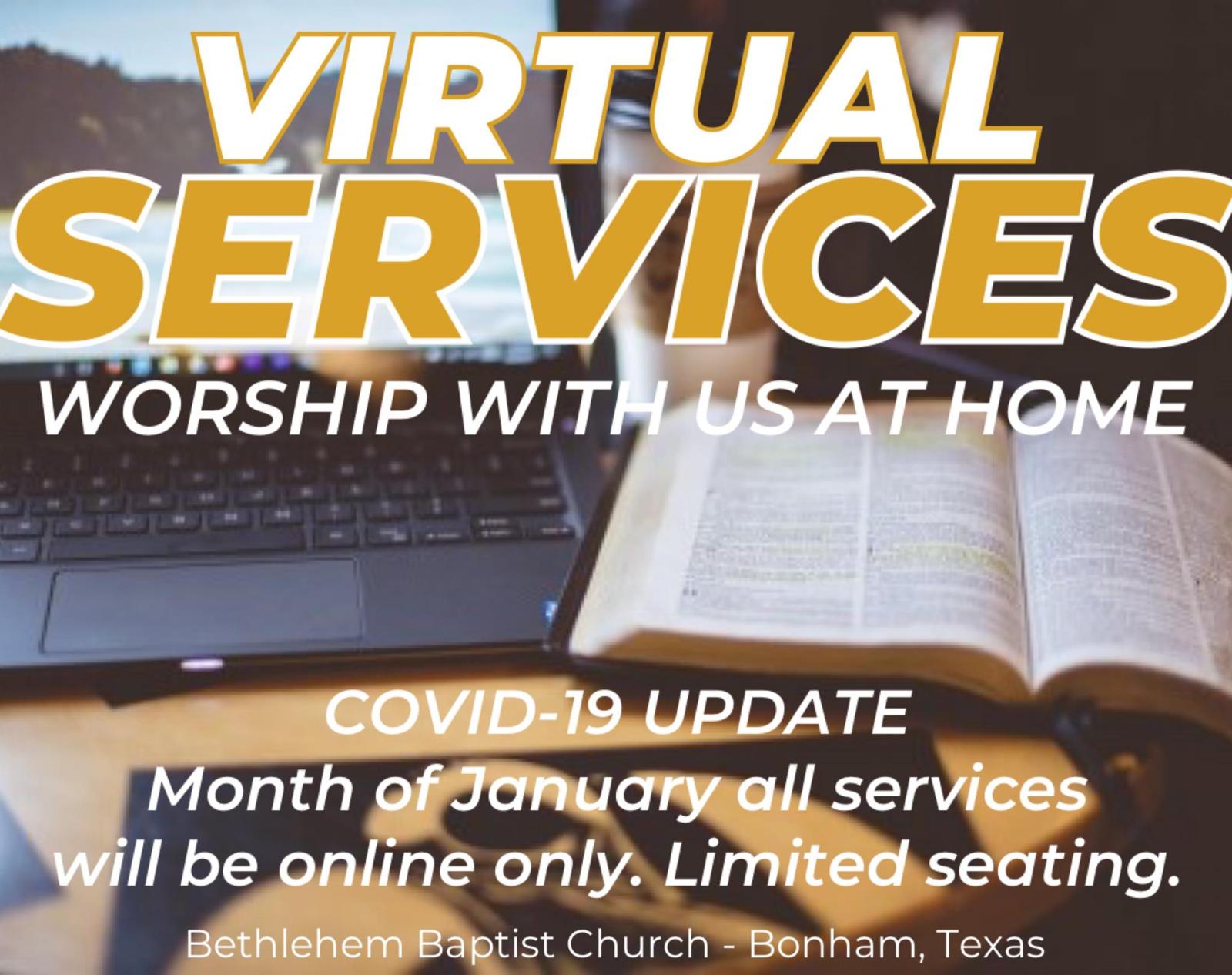 Posted: 12/23/2020:
Virtual Service only for Month of January
Special COVID-19 Notice: All services at The HOB will be broadcasted online only during the month of January. We will have limited seating up to 10 people at a time inside the sanctuary. This was decided by our administration to help slow the spread due to recent increase of cases in our community. You will be able to tune in and watch off our Website, Facebook and YouTube outlets. Online giving avaiable off our website. 
---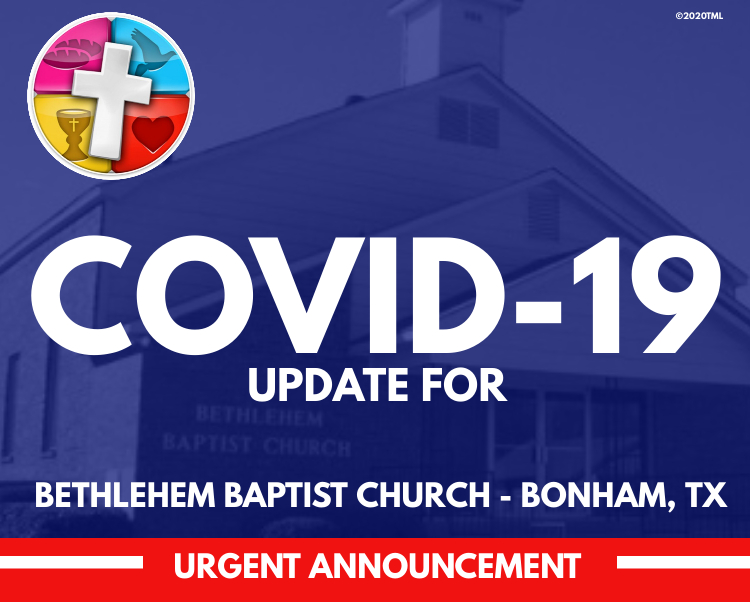 Posted: 11/08/2020:
Members Tested Positive
We the Senior Pastor and Deacons Ministry are providing this COVID-19 update in effort to keep you informed and safe as we continue to press on during this pandemic. During the past week, two (2) members of our congregation tested positive for COVID-19 on Thursday, Nov. 5th. They have not been on campus since last Sunday, Nov. 1st and they have been placed on quarantined per CDC guidelines. We have sanitized and disinfected our campus as we have done weekly since August. We will continue to broadcast our services via our website, Facebook and YouTube channels.
---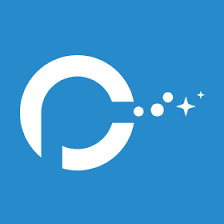 Posted: 08/01/2020:
Campus Cleaned by Perfect Cleaning Co. 
We would like to give a big shout out to The Perfect Clean Co for coming out this morning. It's very important to our Administration we go the extra step for the safety of our members and guests to sanitize and clean our campus during times like these. We will continue to do our part to make this a clean safe environment for all who enter our doors.
---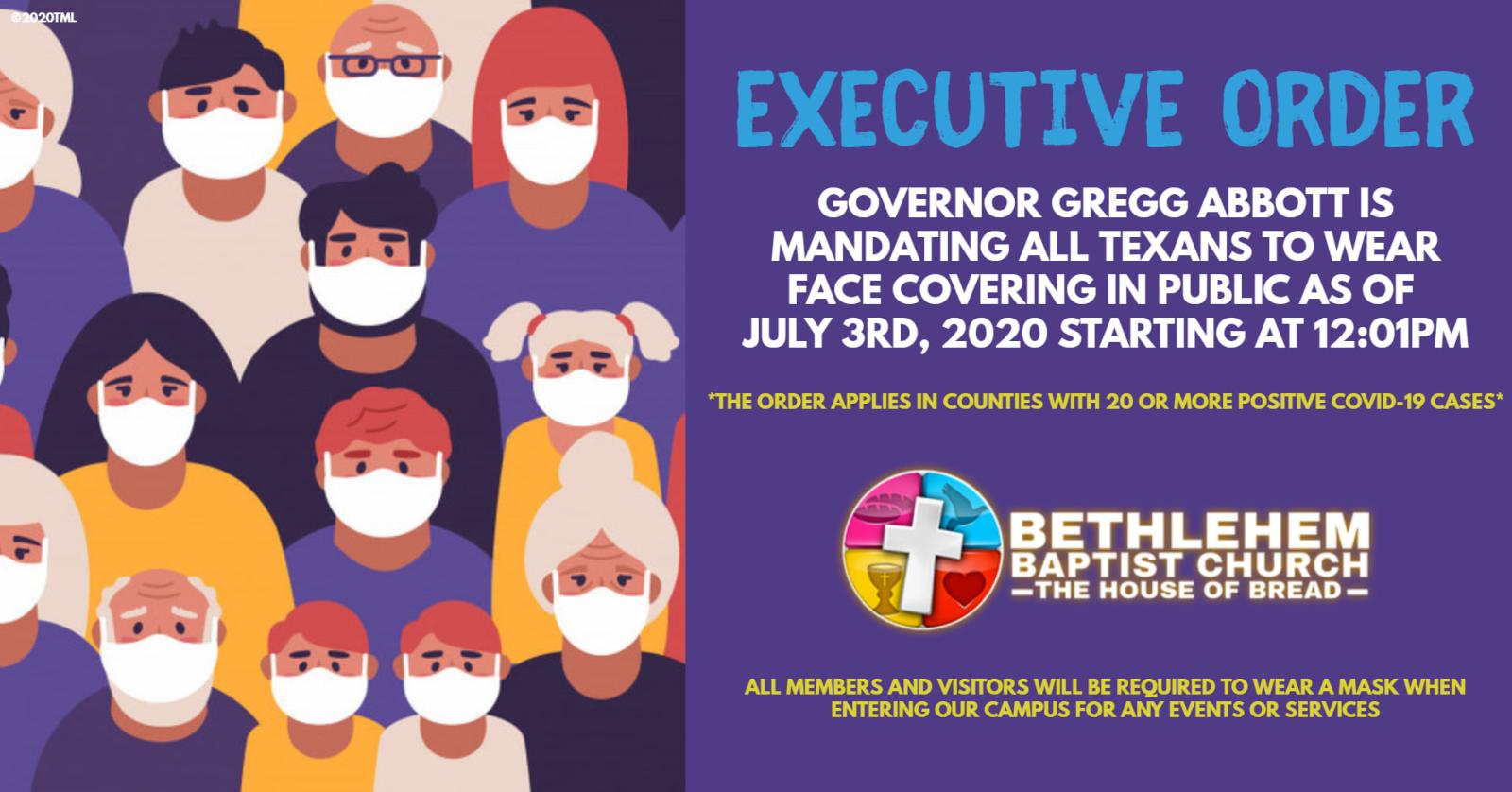 Posted: 07/02/2020:
Governor's Executive Order - Face Coverings Required
This will require all visitors and members to wear masks when entering our campus. Austin, Texas  Governor Greg Abbott today issued an Executive Order requiring all Texans to wear a face covering over the nose and mouth in public spaces in counties with 20 or more positive COVID-19 cases, with few exceptions. The Governor also issued a proclamation giving mayors and county judges the ability to impose restrictions on some outdoor gatherings of over 10 people, and making it mandatory that, with certain exceptions, people cannot be in groups larger than ten and must maintain six feet of social distancing from others.

The order requires Texans living in counties with 20 or more positive COVID-19 cases to wear a face covering over the nose and mouth while inside a business or other building open to the public, as well as outdoor public spaces, whenever social distancing is not possible. But it provides several exceptions, including children who are younger than 10 years old, people who have a medical condition that prevents them from wearing a mask, people who are eating or drinking and people who are exercising outdoors.
---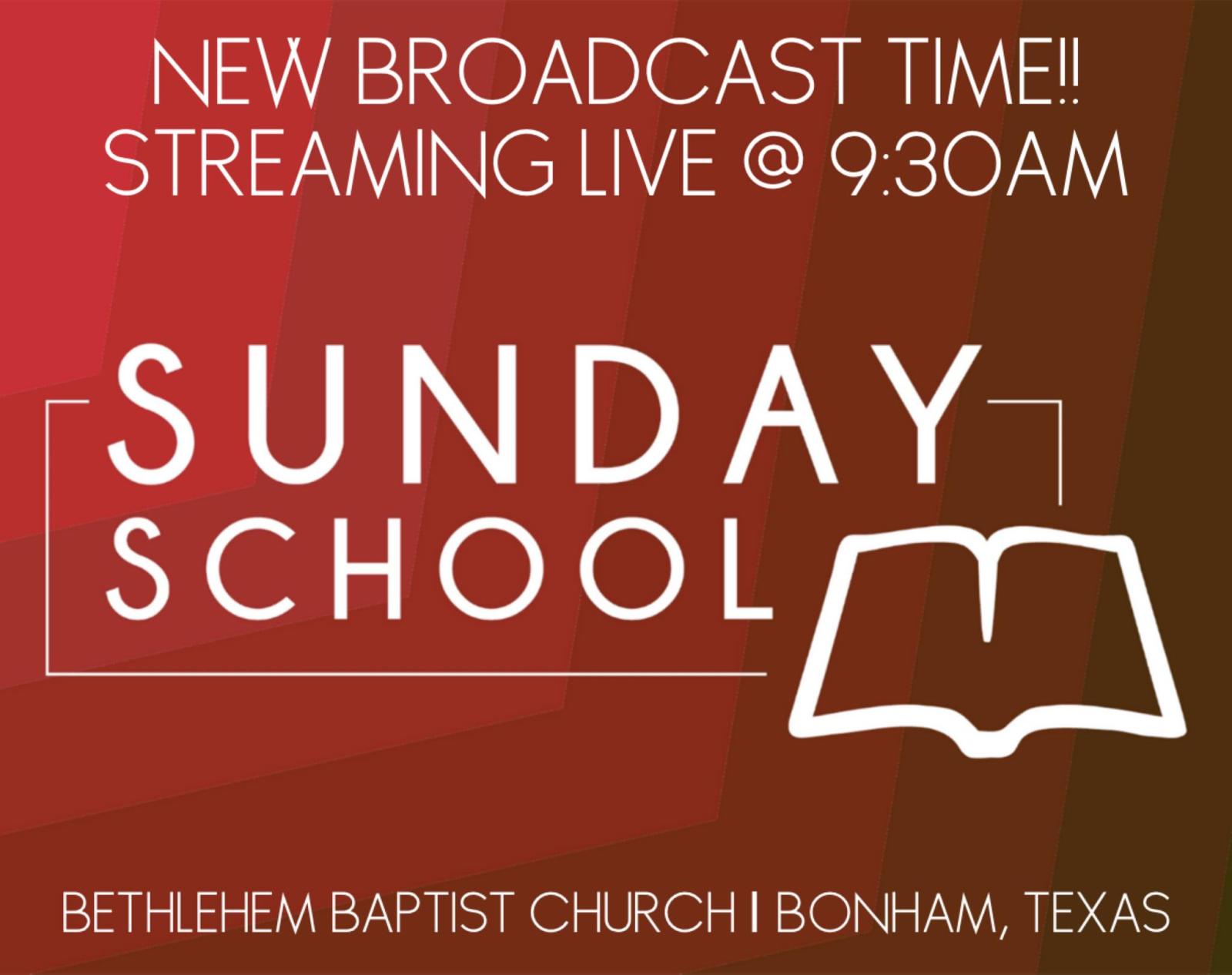 Posted: 06/07/2020:
Sunday School Now Streaming!
We will now offer Sunday School online for those that are not able to attend or stay home for safety reasons during COVID-19.  You can catch Sunday School LIVE off our website, Facebook or Youtube outlets starting at 9:30am on Sundays.
---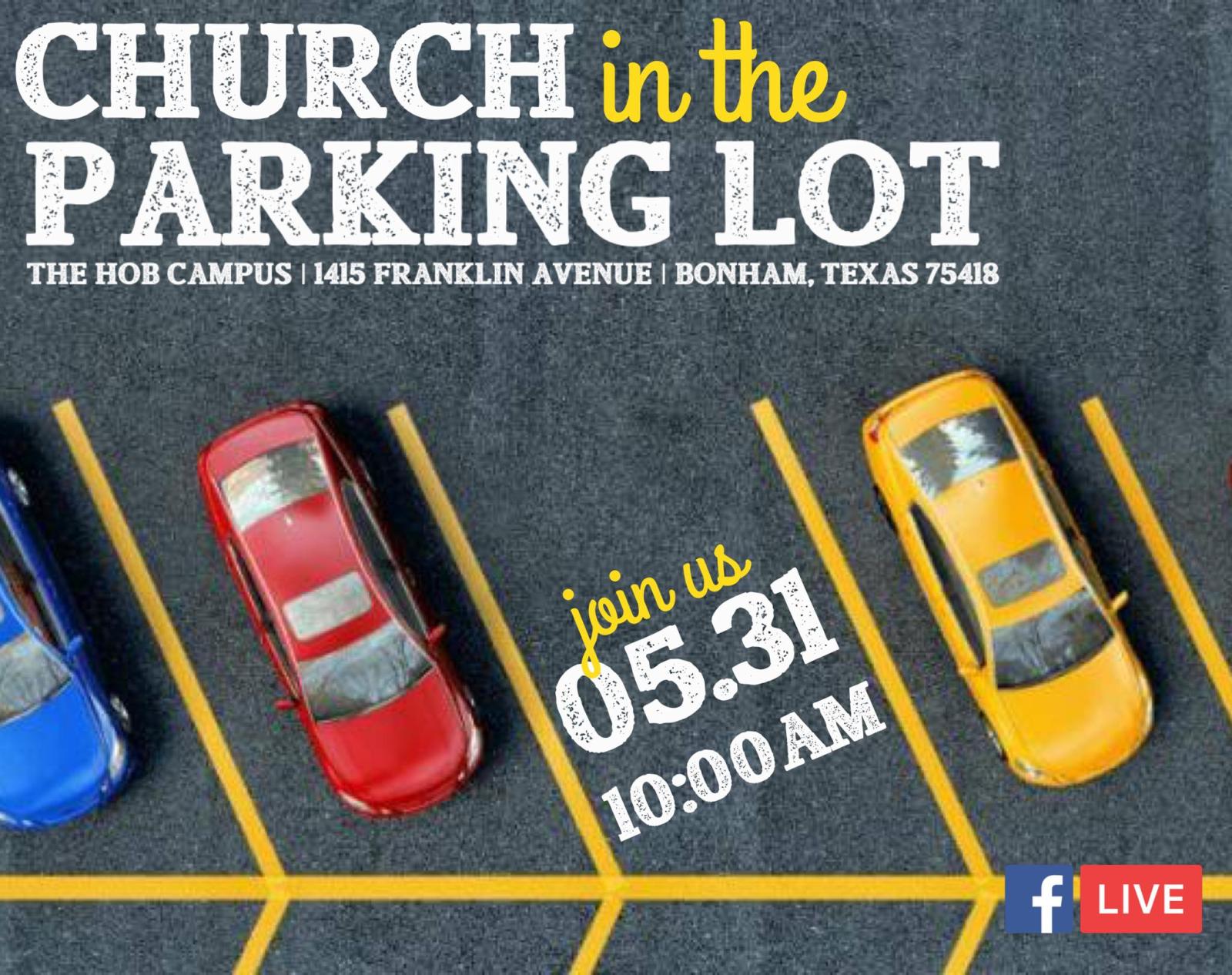 Posted: 05/18/2020:
Church In The Parking Lot
We hope to see you back with us this Sunday, May 31st for our outdoor Church in the Parking Lot Service at 10:00AM! Sunday School will begin at 9:00AM in the Sanctuary. We will have seating available and options for you to worship in your vehicle (please come early for those with vehicles so we can park you). If it rains - we will have service inside.

Here's a few guidelines:
- If you are sick or have fever, please return home and watch online.
- Sit together with your family only.
- Do not shake hands or embrace others during services.
- Please remain seated until instructed by ushers.
- Please respect others during this time and practice social distancing at six feet.
- All who attend must have temperature checked by First Responders.
- It's suggested by CDC that all wear masks. We will provide upon request.
- Online Giving will be available at 
www.bethlehemofbonham.net.
- We will only be streaming live from our Facebook channel.
---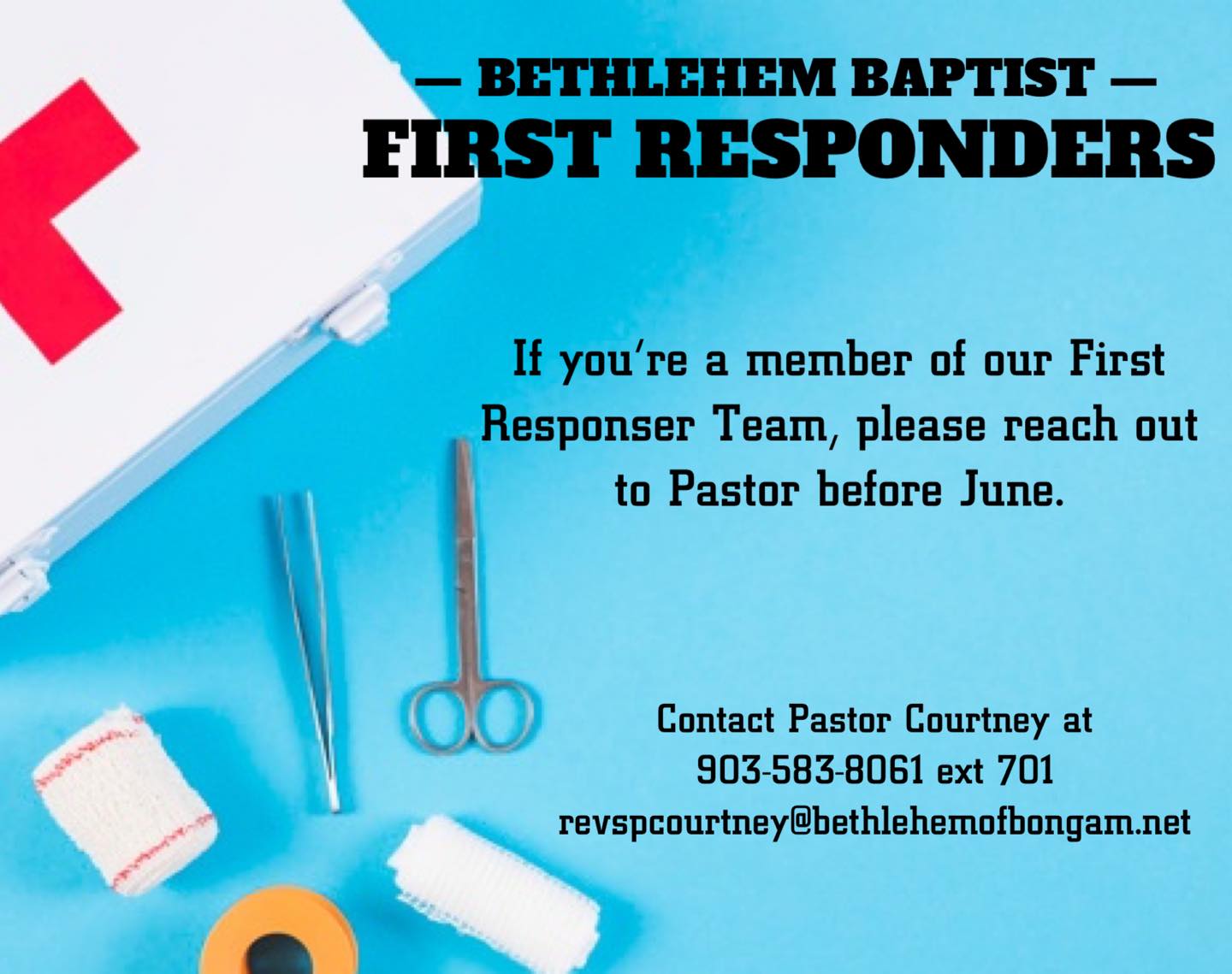 Posted: 05/14/2020:
BBC First Responder Meeting 
Attention to our church first responders- Please contact Pastor Courtney before June as we prepare to discuss future plans regarding COVID-19 operation. 
---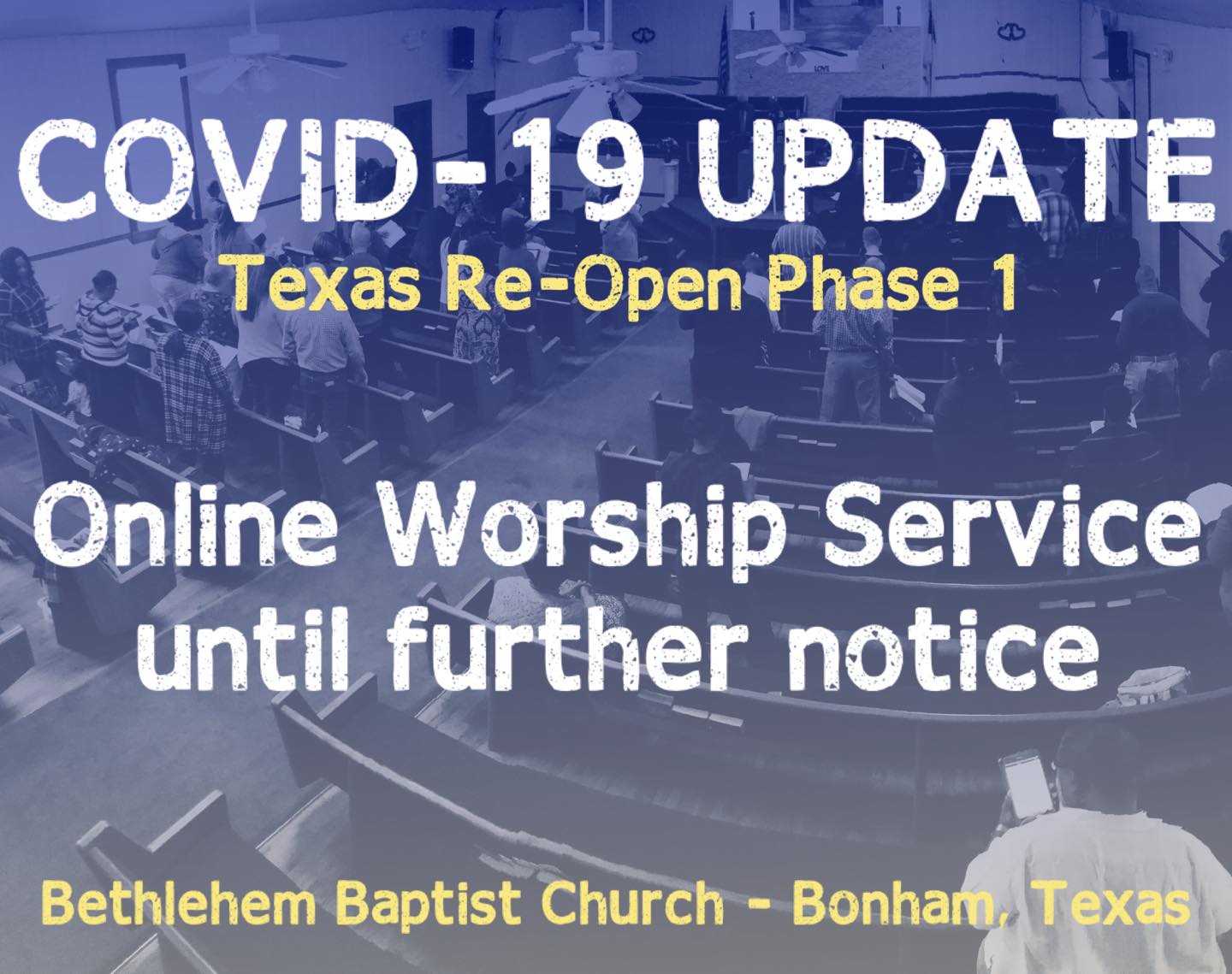 Posted: 04/30/2020:
Texas Reopening Phase 1
As the state re-opens tomorrow as phase 1, please understand we are still taking precaution steps to protect our members. At this time our administration has decided to continue online worship services until further notice. We can't wait when we all can come back together and worship at The HOB. We love you all and will continue to pray for you and your family!
---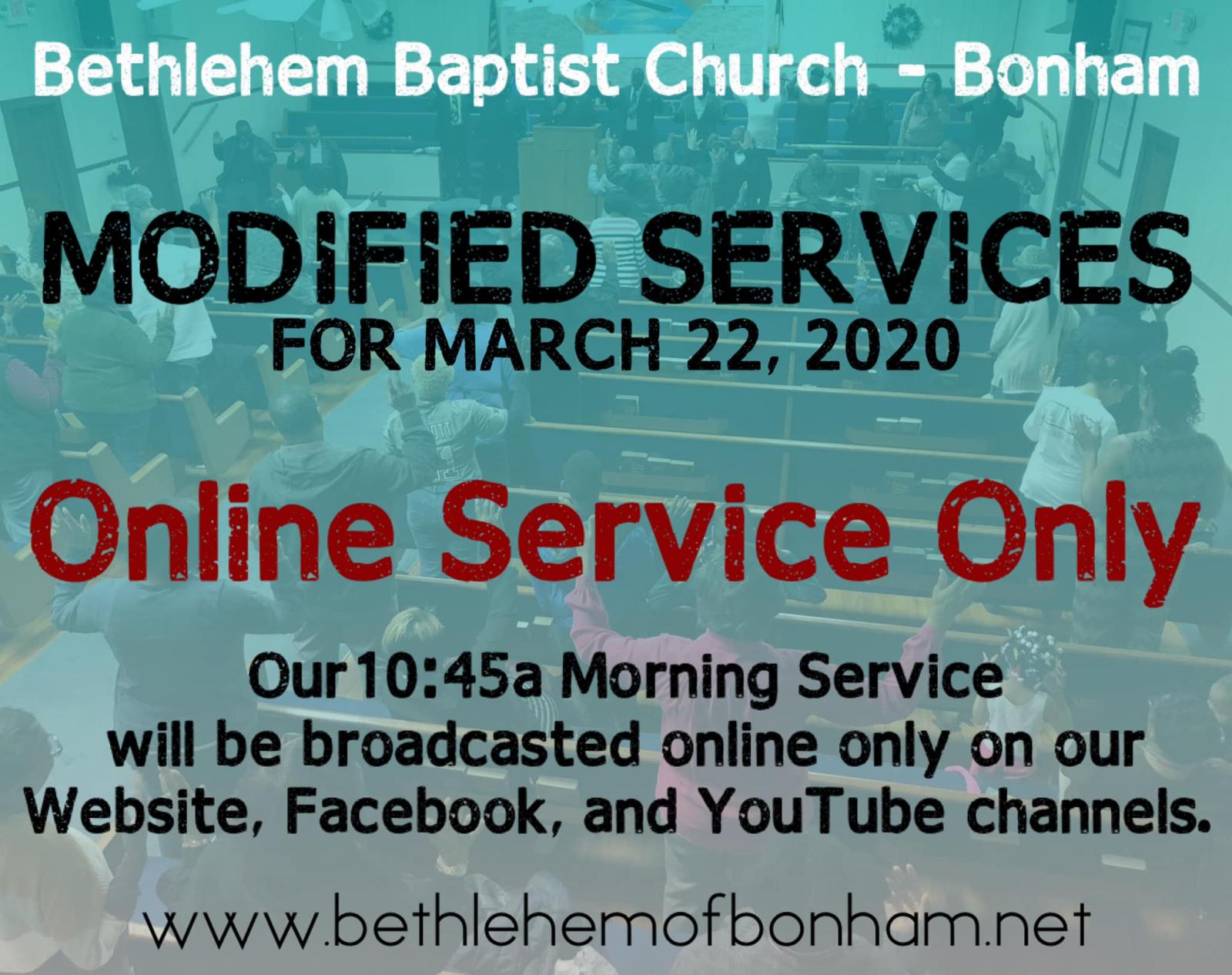 Posted: 03/19/2020:
Modified Service - Online Only
Due to Governor's Declaration of Emergency
All Bethlehem members and online members, We are modifying our Sunday Services for March 22 as a result of the COVID 19 pandemic. Please join us for one worship service at 10:45am by ONLINE ONLY. Please understand the restrictions prevents us from having more than 10 people assembled in our worship experience at one time. We have decided to broadcast our main worship to meet the requirements. Be sure to check out to our Website, Facebook, and YouTube channels to view our service.